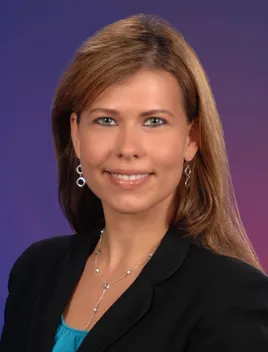 Dr. Rose C. Huber received most of her training in Texas including a Bachelor of Arts degree from Trinity University , Master of Arts degree from Houston Baptist University , and a Doctorate in Psychology from the APA-accredited Psychology program at Our Lady of the Lake University . She completed training at APA-accredited sites including practicum at the South Texas VA, internship at the Central Texas VA, and her post-doctoral fellowship in Clinical Health Psychology at the Miami VA. She is a Licensed Clinical Psychologist in the states of Florida ( PY7973 ) and Texas (PY35078).

She has delivered individual, child, family, couple, and group psychotherapy as well as surgical, psychological, and neuropsychological evaluations of patients with chronic medical conditions including diabetes, sleep problems, pulmonary disorders, weight issues, cancer, chronic pain, cardiac conditions, dermatological issues, transplant considerations, and gastrointestinal disorders.
She has extensive training with helping individuals lose weight to lead a healthier and happier life. She has conducted research, directed programs, given presentations, and attended workshops in weight management. She herself has experienced a significant weight loss and understands the difficulty associated with losing weight and keeping it off. She also specializes in bariatric psychology, including conducting pre-surgical psychological evaluations and follow-up treatment for patients being considered for weight loss surgery.
Having specialty training and experience in behavioral medicine and family systems she understands the difficulty that can be experienced within the individual and family when problems arise. Dr. Huber is a strong proponent of the mind-body connection and stress-reduction operating from a strength-based, solution-focused, cognitive-behavioral approach believing that everyone has the capability to overcome their problems and lead a better quality of life.
Dr. Huber is affiliated with South Miami Hospital as well as Jackson South Medical Center and in the past been affiliated with Holy Cross Hospital. She has been an adjunct faculty member with the Psychology Department at Barry University and Our Lady of the Lake University. She is a licensed MHC Supervisor in the state of Florida. She is also an active member in several professional organizations including the Association of Behavioral Cognitive Therapies (ABCT), Miami-Dade County Psychological Association (MDPA), Florida Psychological Association (FPA), Houston Psychological Association (HPA), Texas Psychological Association (TPA), and the American Psychological Association (APA). She is also a National Register Health Service Provider in Psychology and has earned the National Registry Early Career Psychologist Award (2011). Additionally, Dr. Huber has been selected for the 2011, 2012, and 2013 Best of Fort Lauderdale Award in the Psychologists category by the U.S. Commerce Association (USCA). Recently she was selected as 2015 Best of Coral Gables Psychologists. She has also been awarded the American Insurannce Trust 2014 Longevity Award.